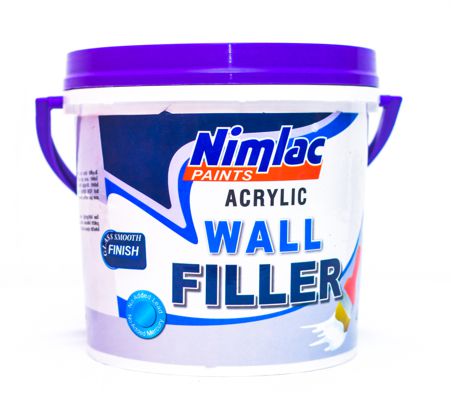 Wall Filler
| | | |
| --- | --- | --- |
| Usage | : | Nimlac Acrylic Wall Filler is suitable for all normal interior masonry surface including Brickwork, cement, asbestos, wall board & wood |
| Colour(s) | : | White |
| Features | : | Acrylic Co-Polymer Water Base Primer matt paint, Quick Drying, Good coverage |
| Coverage | : | 1 st coat 100 feet per liter. 2 nd 60 feet per liter |
| Pack Sizes | : | 1 Liter, 4 Liter, 10 Liter,20 Liter |



Product Description
Nimlac Wall Filler is interior plastered wall, concert or painted walls with outstanding fill up small holes & up dents. It provides the surface in perfections of surface with a smooth high quality finish. It will minimize the absorption and save the cost of the top coat paint.
Directions for Use
Maximum thinning up to 20% with water ( 1 part water : 4 parts Wall filler ) and apply with a brush or roller. Allow at least 4 hours to dry, sand down the surface lightly & apply the second coat, if necessary. Then apply Nimlac Emulsion  or Weather Plus for a classy finish.
Drying Times:  1 st coat -20 minutes 2 nd coat Apply After 6 Hours
Ensure good ventilation during application process. In case of contact with eyes rinse with plenty of water and seek medical attention immediately. If contact with skin, wash with soap and water. Keep containers out of children.
Important:
Do not dispose left over paint and empty containers into water course.
After use clean brushes / roller & equipment with water.
The container should be kept closed during storage.
Send us an inquire for this product
Other Contact Details:
Tel : 037 469 0517 / 037 223 2516