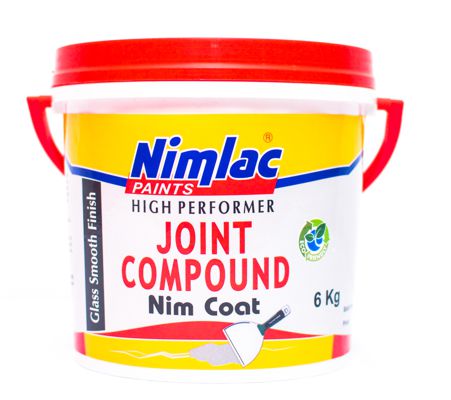 Joint Compound
| | | |
| --- | --- | --- |
| Usage | : | Nimlac Nim Coat Pre- Mixed Acrylic joint filler is a compound with a superior finish. It is economical and recommended for all types of joint, internal & external angles and plaster board joints. |
| Colour(s) | : | Slightly off-white |
| Features | : | Excellent applicability, Low shrinkage, Quick drying, Easy sanding |
| Coverage | : | This may vary depending on the type of surface. |
| Pack Sizes | : | 1.75 kg, 6 kg, 18 kg , 28 kg |



Product Description
Nimlac Nim Coat Pre- Mixed Acrylic joint filler is a compound with a superior finish. It is economical and recommended for all types of joint, internal & external angles and plaster board joints. Also recommended for filing internal cracks and gaps leveling uneven rough surfaces such as concrete and masonry walls.
Direction for Use
All surfaces must be clean & free of dirt & dust. If mould or algae is present, clean, the surface thoroughly.If liquid is separated form the compound, stir it uniformly. Use a plaster board knife or trowel. Fill the plaster board joints evenly. Allow the first coat up to 24 hrs in good drying condition.
Apply a second coat of Nim Coat and keep one day to dry. To obtain a smooth surface, sand papering is necessary
Drying Times : Surface Dry: 15 minutes, Hard Dry:12 hours
SYSTEMS INFORMATION & APPLICATION METHOD
Step1-Use a clean, dry putty knife.
Step2-apply Nimlac Joint compound as a thin layer and prepare the surface as smooth. Allow 12 hours to dry.
Step3-Sand with an abrasive paper and wipe the surface well
Step4-Then,apply Nimlac Wall Filler and allow 6 hours to dry. Sand with an abrasive paper and wipe the surface well.
Ensure good ventilation during application process. In case of contact with eyes rinse with plenty of water and seek medical attention immediately. If contact with skin, wash with soap and water. Keep containers out of children.
Important:
Do not dispose left over paint and empty containers into water course.
Send us an inquire for this product
Other Contact Details:
Tel : 037 469 0517 / 037 223 2516