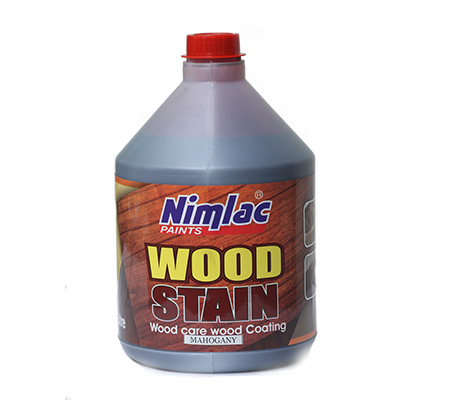 Nimlac Wood Stain
| | | |
| --- | --- | --- |
| Usage | : | Wood furniture's, doors, cabinets etc. Interior & exterior wooden walls |
| Colour(s) | : | Transparent Colour (Teak, Mahogany, walnut & Jack wood) |
| Features | : | Concentrated, Transparent Colours, Solvent Based |
| Coverage | : | This may vary depending on the type of surface |
| Pack Sizes | : | 500 ml , 2ltr, 1 ltr , 4 ltr, Bulk |



Product Description
Nimlac Wood stain is a transparent colour solution that is used for decoration of wooden surfaces .Nimlac Wood stain enables you to have your choice of wooden shade without damaging the beautiful character of wood grains. Nimlac Wood stain contains dye pigments in aromatic solvent.
Ensure good ventilation during application process. In case of contact with eyes rinse with plenty of water and seek medical attention immediately. If contact with skin, wash with soap and water. Keep containers out of children.
Important:
Do not dispose left over paint and empty containers into water course.
Send us an inquire for this product
Other Contact Details:
Tel : 037 469 0517 / 037 223 2516