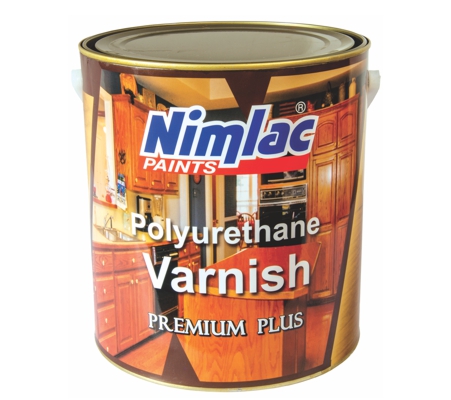 Polyurethane Super Varnish
| | | |
| --- | --- | --- |
| Usage | : | Nimlac PU Varnish gives a smooth and long lasting rich finish on wooden surfaces . It is specially recommended for wooden ceilings , doors , windows and furniture . |
| Colour(s) | : | Mahogany, Teak, Jackwood, Wallnut & Clear |
| Features | : | Extra Hardness , Improved Water and Moisture resistance |
| Coverage | : | 150 Sq.ft./ Lt. |
| Pack Sizes | : | 200 ml, 500 ml, 1 Liter,4 Liter |



Product Description
Nimlac PU Varnish gives a smooth and long lasting rich finish on wooden surfaces . It is specially recommended for wooden ceilings , doors , windows and furniture .
Directions for use :
Stir well before use . Surface should be clean and dry . Use "Nimlac" NC Sanding Sealer as an undercoat for a better finish . Thin down with turpentine as required . Apply by brush or spray gun .
Coverage
150 Sq.ft./ Lt.
Handling and Safety Instructions :
Keep away from sources of ignition . Ensure good ventilation during application . In case of contact with eyes rinse with plenty of water and seek medical advice . Keep the container tightly closed .
Send us an inquire for this product
Other Contact Details:
Tel : 037 469 0517 / 037 223 2516