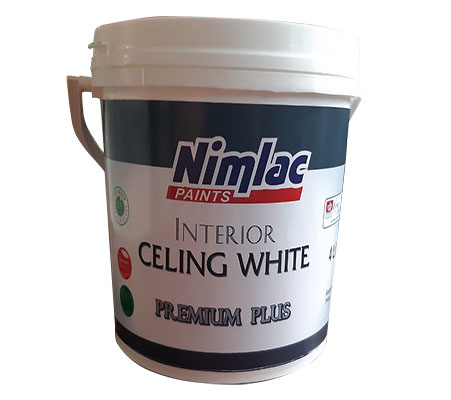 NIMLAC CELLING WHITE
| | | |
| --- | --- | --- |
| Usage | : | For the decoration and painting of interior ceiling. |
| Colour(s) | : | White |
| Features | : | Excellent applicability, Quick Drying, High Opacity, Good coverage |
| Coverage | : | Up to 120 - 140 sq.ft. per liter. (This may vary depending on the type of surface.) |
| Pack Sizes | : | 1 liter, 4 liter, 10 liter, 20 liters |



Product Description
Nimlac Ceiling White is recommended for use on properly prepared ceilings, it will provide the surface a smooth, durable, attractive finish. An economical Emulsion paint for painting of interior ceiling.
Typical Uses
For the decoration and painting of interior ceiling. It also can be used as primer prior to the application of Emulsion paint.
Asbestos
Cement
Masonry
Plaster
Hard & soft Boards
SURFACE PREPARATION
To get the best results, ensure surfaces to be painted are sound, clean, dry and free from all defective or poorly adhering material, dirt. grease wax etc. After apply Nimlac Ceiling White 1 or 2 coats & finished the ceiling.
SYSTEMS INFORMATION
STIR THOROUGHLY BEFORE USE. After suitable surface preparation apply 1 or 2 coats of Nimlac Ceiling White Apply 2 coats of Nimlac Ceiling White get finish with an appropriate paint system.
APPLICATION METHOD
Dilute with clean water and should not exceed 35% by using fresh water. The product can be applied by Roller & Brush.
Drying Times :  Single coat at standard thickness 20-45 minutes Hard Drying 8-12 hours
Send us an inquire for this product
Other Contact Details:
Tel : 037 469 0517 / 037 223 2516